California to the Bahamas

(A.K.A. "The Three Amigos Do America!")

June 5 - 23, 2007

The Three Amigos have traveled the world in search of adventure, or at least good diving. Having visited most of the good diving destinations in the world (at least the ones that tolerate Americans), we find ourselves revisiting old favorites.
This trip involved revisiting the Bahamas, but in a new and unique way.
We flew my plane from northern California, across the US to Florida. We took a commercial flight for the over-water leg to the Bahamas. After a week of diving, eating, drinking and merriment, we returned to the US and took the long way back to the west coast, visiting various points of interest along the way.
Some of the interesting things we experienced are:
Here is a rough itinerary for the trip:
Day 1 - 6/5: Nico and I flew down to Camarillo, picked up Jerry, and flew to Tucson. We had some locally-made cactus vodka martinis with dinner.
Day 2 - 6/6: The Three Amigos departed Tucson and flew to Houston, where we visited friends. At our first fuel stop, in Pecos TX, we were joined by a flight of Marine helicopter gunships, which was impressive to see. We also stopped for fuel in Burnet, TX and flew IFR from there to Houston due to clouds.
Day 3 - 6/7: Flew from Houston to Ft. Pierce, Florida with fuel stops in Lafayette, LA and Panama City, FL. The legs from Houston to Panama City were both IFR and involved dodging thunderstorms. The leg from Panama City to Fort Pierce was VFR, but involved steering around a huge line of cells over central Florida and a night landing at Ft. Pierce.
Day 4 - 6/8: Jerry & I drove up to watch the Space Shuttle launch. The launch was amazing, as always!
Day 5 - 6/9: More diving in Palm Beach. Unfortunately, while boarding the dive boat, Jerry falls overboard and ruins his camera!
Day 6 - 6/10: Fly to Andros Island in the Bahamas. The Continental Connection flight kept getting delayed and delayed. Finally, about four hours later, we are called for boarding. It turns out that we are the only three people on the plane!
Day 7 - 12, 6/11 - 6/16: Dive at the Small Hope Bay Lodge.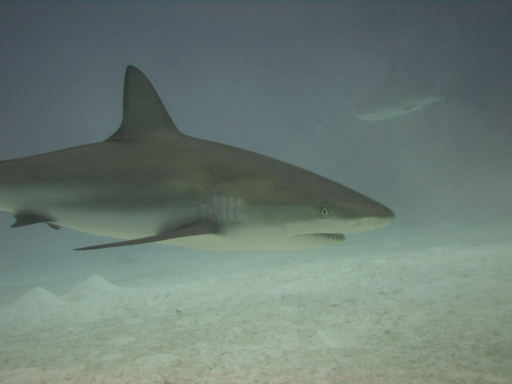 We had a great time at the lodge. It was just our kind of place. The other guests were eclectic and interesting, the staff were truly friendly and made us feel like family, the diving was good and the weather mostly nice. We'll definitely be back someday.
On a strange note, we ran into an older version of the Three Amigos sitting across the bar from us at the lodge. They too are three old friends who meet up for dive vacations at various places. They were from the same three regions as us, and were sitting in the same order. Spooky!
Day 13 - 6/17: Return to Florida. A group of us from the lodge were waiting for our flight at the airport in Andros. Once again, the airline was several hours late and it was nearing dinner time. We had gotten used to delicious conch fritters appearing at 6pm each night at the lodge, and as a joke, one of us phoned the lodge to ask about having fritters delivered. They heard about us being stuck at the airport with no food, and sent someone over to drop off a plate of hot conch fritters, a bunch of sandwiches, and a cooler of beer. Wow!
Day 14 - 6/18: Depart Ft. Pierce FL enroute to Pensacola FL. We were IFR this leg, and as we were about an hour out of Pensacola, I determined that widespread thunderstorms would preclude our landing at Pensacola, so we diverted to Marianna FL, rented a car, and drove the 90 minutes to Pensacola.
Day 15 - 6/19: Because of widespread thunderstorms, the dive operator cancelled diving. So instead we toured the Naval Aviation Museum, saw "Oceans 13", and had a great dinner at the Fish House.
Day 16 - 6/20: We made two dives on the aircraft carrier USS Oriskany.
Day 17 - 6/21: Flew to Carlsbad, NM. We stopped in Natchez, MS for fuel, and in Stephenville TX for fuel and real Texas barbecue! All three legs involved substantial IMC and the Natchez to Stephenville leg involved several reroutes due to fast-moving thunderstorms and much steering around storm cells.
At the Stephenville airport, they loaned us a gas-powered golf cart to drive to the barbecue restaurant, a drive that involved off-roading and getting stuck in the mud. On the way back we took the highway!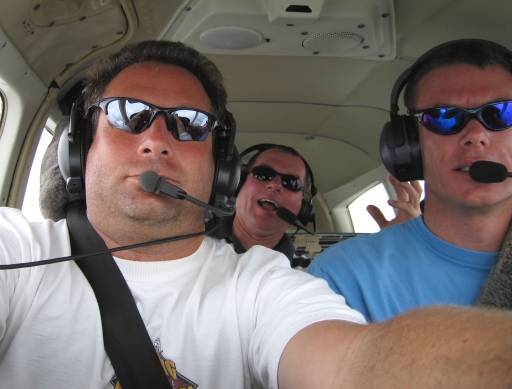 Day 18 - 6/22: Explored Carlsbad Caverns. We did both the self-guided tour and the Kings Palace ranger-guided tour. The caverns are huge!
Day 19 - 6/23: Flew home. We stopped in Safford AZ and Blythe CA for fuel, then in Camarillo CA to drop off Jerry, then finally back to San Jose.
Overall, an amazing, fun, and exhausting trip!
Flight Notes
I bought the Garmin GPSMAP 496 especially for this trip. It was truly worth every penny. In particular, the downlinked XM weather was indispensable. That capability enabled us to safely keep to our schedule and not get stuck overnight in some backward town.
Hours flown: 42.0
Approximate fuel burned: 588 gallons
Number of landings: 19
Last modified: 05/11/2012