Paris and Perigord, France

September 2009

In September of 2009, Clarence took me to Paris and the Perigord in France.
For the first 3 or 4 days, we hung out in Paris and explored the city. We stayed at the Hotel de l'Abbaye near Luxembourg Gardens, which was centrally located and easily walkable to many of the places in Paris we wanted to visit.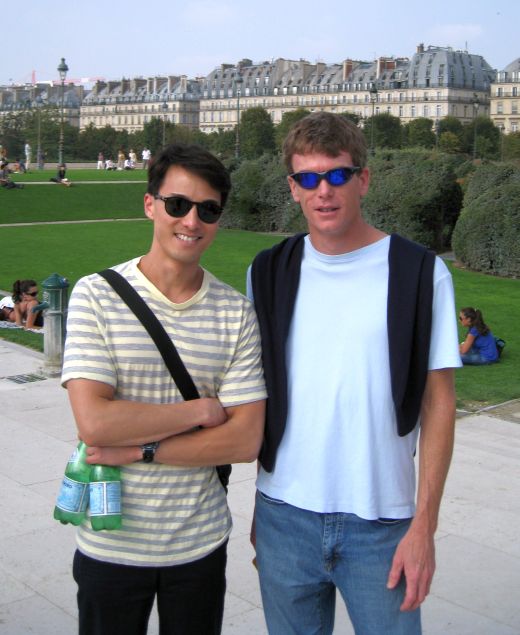 What a beautiful city! We did a nice mix of visiting the big landmarks as well as just simply walking around neighborhoods or picnicking in a park.
Some of the places we visited included the Latin Quarter, the Eiffel Tower, the Champs Elysees, Parc Monceau, the Louvre, Luxembourg Gardens, the Trocadero, Les Invalides, Notre Dame, Vosges, and Montmartre. It sounds like a lot but we never felt rushed. And besides, we would reward ourselves for all that walking with frequent visits to pastry shops!
The next part of the trip was a visit to the Perigord, in the south of France. This involved renting a car and driving out of the city, which was made challenging because they had rearranged some of the roads out of the city after they printed our map! After stopping and asking for directions a few times, we eventually found our way to Sarlat and our hotel, Maison des Peyrat. The Perigord is the world's leading producer of fois gras, which gives you an idea of how seriously they take food around there...
The hotel was this ancient but very comfortable old farmhouse up in the hills. It was an easy 10-minute walk into town via winding country roads. Besides wandering around Sarlat on foot, we drove around the Dordogne and visited various chateaux, gardens, and other towns. Some of the places we visited include Chateau des Milandes, the gardens of Marquessac, and towns such as Les Eyzies, Beynac, La Roque, and visited the caves at Gouffre de Proumeyssac.
After the Perigord, we drove back to Paris, enjoyed one more park picnic, then headed home. What an incredible trip!
Last modified: 05/11/2012