Bonaire & Curaçao - October, 2003

Chris and I joined up with Nico and Jerry for a dive trip to Bonaire and Curaçao in the second half of October. Bonaire has been on the dive "to-do" list for quite some time now and we decided to visit Curaçao while we were in the neighborhood.
Bonaire and Curaçao are part of the Netherlands Antilles - situated just north of Venezuela in the Caribbean sea. On Bonaire, we stayed at Captain Don's Habitat. With the exception of the lackluster breakfasts, we were quite happy with Captain Don's. The accommodations were quite nice, the resort was situated right on the water with a great house reef, and the dive operation was well-run. They claimed to be the "home of diving freedom" and they were right. We did our own thing without restrictions.
The view from our patio at Captain Don's
Bonaire is famous for having numerous excellent dive sites accessible from shore. After our morning boat dive, we would pile the dive gear in the pickup truck and drive to a dive site. The reefs were a 2 to 8 minute swim from shore. Booties were definitely a necessity for shore diving, however, due to rocky/coral entries and sea urchins.
Shore diving on Bonaire
Bonaire had a decent selection of restaurants and a nice downtown area. We didn't really do much in terms of nightlife this time.
The diving conditions were excellent on Bonaire. The water temperature was 85 - 86 degrees, visibility was generally 80 - 100 feet, and it was sunny or partly cloudy with light to moderate breezes. The interior of the island is full of cactus due to low rainfall.
One interesting thing about Bonaire is the population of wild donkeys wandering about unrestrained. They can be found in parking lots, on the street, in people's yards, etc.
After a week on Bonaire, we flew to Curaçao for 3 - 4 days, were we stayed at Lion's Dive Resort. Curaçao is a much bigger, more industrialized island where diving is incidental. Lion's was also quite nice, but rather than a dive resort, it was more a resort where you could also dive. Most of the guests were not diving. However, the dive operation was generally well run. We didn't visit the house reef and made only one shore dive on Curaçao.
There were a number of bars & restaurants within walking distance from the resort. The nearby seaquarium was definitely worth a visit. Weather on Curaçao was also really nice, with only one rain shower on the last day. The waterfront areas of Punda and Otrobanda were nice and colorful.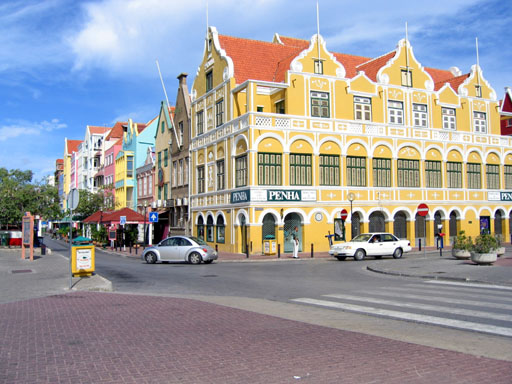 Punda waterfront area in Curaçao
The consensus seems to be that Curaçao was nice but doesn't really warrant a return visit. Bonaire, however, was a great dive destination that definitely deserves a return visit.
Last modified: 03/28/2006