Cozumel, Playa Del Carmen, Cancun

October, 2004

Chris and I joined my friends Nico and Jerry for a dive trip to the Yucatan Peninsula in Mexico. We spent the first week at the Scuba Club on the island of Cozumel.
Sea Turtle
Nico and I had been to the Scuba Club twice before and to another resort in Cozumel once before. It was Chris and Jerry's first visit to Cozumel. The diving in Cozumel ranks right up there with the best of the Caribbean. The coral and fish life are diverse and abundant, and the reef topography, consisting of walls, pinnacles, and swimthroughs, is interesting.
What we enjoyed about the Scuba Club was the food, the intimate atmosphere, and the generally great level of service. Our experience with the dive operation this time wasn't as good as it has been in the past though. We were assigned to a cattleboat with a group of inexperienced divers, and our dive master declined to take us to the much-requested Punta Sur dive site. One upside though was that we were not limited in our bottom time by the dive master. In our next visit we will insist on either being allocated a small boat with discretion over the dive sites or will arrange for a small boat with another dive operation.
The conditions were quite nice. The water temperature was generally 85 - 86 degrees F, and we had a mixture of sunny, partly cloudy, and rainy days. The seas were generally calm and the current mild. Visibilities ranged from 60 - 90 feet; acceptable but not the best that Cozumel is capable of.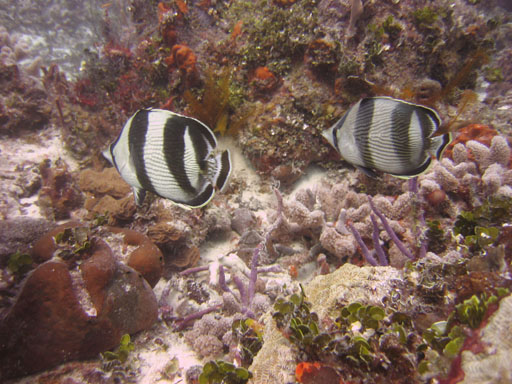 After our stay in Cozumel, we took the ferry to Playa Del Carmen to do some diving in the cenotes with Go Cenotes. Cenotes are caves that have filled with water and have become accessible from the surface due to collapses. We did two dives in Chac Mool and Taj Mahal. We spent a pleasant night at the Blue Parrot hotel in Playa Del Carmen and had a fine dinner at the Viva Cafe.
The following day Chris and I went to Cancun and returned shortly thereafter.
Last modified: 05/11/2012