Cayman Islands - May, 2002
The Three Amigos ride again! This time, Nico, Jerry, and I headed to the Cayman Islands for two weeks of diving. Besides a day on each end of the trip in Grand Cayman, we spent about a week on Little Cayman at McCoy's Lodge and another week on Cayman Brac at the Brac Reef Beach Resort.
The flights to the sister islands were on a Twin Otter run by Island Air. This was a novelty for me: about 200 of my skydives are from Twin Otters, so it was rather strange to ride in a Twin Otter with seats and a door installed and actually land with the plane!
Underwater Photography
This was my first time trying underwater photography. I used a Canon Powershot S30 3.2 mega pixel digital camera with a Canon underwater housing. The combination worked great! All of the buttons are accessible through the housing and the built-in flash is usable. One very cool feature of the camera is the ability to take short movies (30 seconds or 2 minutes, depending on the selected resolution). The trip picture gallery can be found here. There is also a 12-minute underwater movie, which can be found here.
Little Cayman
The first week on Little Cayman was just grand. The weather was perfect: sunny, light breezes, and calm water. McCoy's Lodge is small to begin with - a capacity of about 20 guests. For the first few days there was only one other guest - then she departed and it was just us! Since the divemaster was on vacation, Sam McCoy would take us out diving every morning and again in the afternoon. It was very relaxing...
Little Cayman is famous for great wall diving on Bloody Bay Wall and Jackson Wall. Well, Bloody Bay Wall is a shore dive from the lodge and Jackson Wall is 5 minutes up the beach. Nothing like short boat rides to awesome dive sites! The water was 81 degrees F and the visibility was typically 80 - 100 feet. The reefs and walls were very much alive with coral and animal life. The tops of the walls were fairly shallow (as shallow as 20') and would drop off vertically. Parts of the reef had some great swimthroughs. One of our favorite sites was Bus Stop - the site of our afternoon shore dive on several days. On the last day we bicycled to where the wild iguanas hang out and passed out some bread: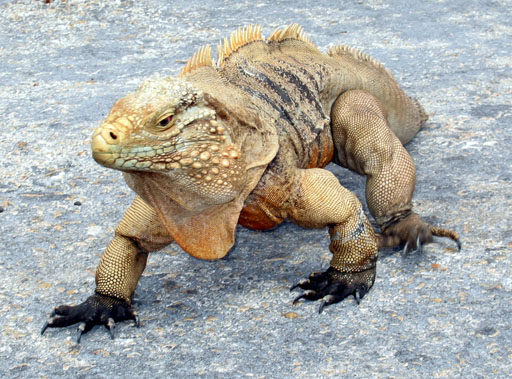 Cayman Brac
The Brac Reef Beach Resort was a lot bigger, but less intimate than McCoy's Lodge. Cayman Brac has a population of around 1800 compared with about 150 on Little Cayman. It was a bit rough and windy during our stay on the Brac, and that cut down visibility a bit. Brac also had some very nice walls and decent shallow reefs on both sides of the island. One of the big attractions of Cayman Brac is a wreck dive on the M/V Capt. Keith Tibbets, an old Russian frigate bought from the Cubans and sunk about 20 years ago.
The staff at the Brac Reef Beach Resort were great, particularly the dive staff and Greg the bar tender. The dive staff strived to take us to the best dive sites, considering the conditions and where we'd already been. And Greg gave us fine service at the bar, including a new drink:
Greg's Killer Koolaid:

Last modified: 05/11/2012