Sydney, Australia - May, 2004

Chris and I vacationed in Sydney for about 8 days. We took an overnight side trip to the Blue Mountains but otherwise just explored Sydney.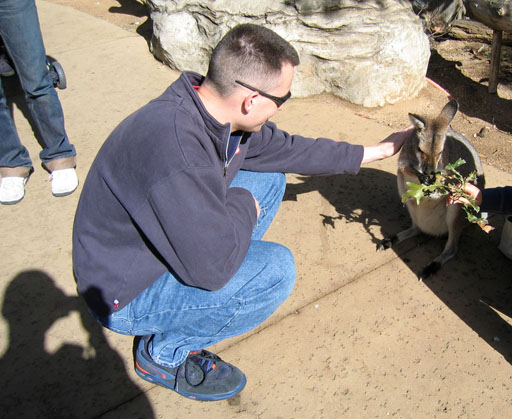 Chris petting a wallaby at Taronga Zoo
We didn't have an agenda for the trip, just an idea of various things we wanted to do or see.
One of the first experiences was staying in a hostel. Chris had wanted to do this for a long time so we gave it a try. We started out in the Sydney Central YHA which was in a decent location and had good reviews. We had a private room with bathroom and not the dorm-style accommodations that are common in hostels. I had misgivings about staying in a hostel because of some bad experiences in the past, but we were both pleasantly surprised. The main upside of staying in a hostel is the young and social environment.
The first full day we were there was our one year anniversary! We had dinner in the restaurant in the AMP tower in the center of Sydney and then went out and enjoyed the night life.
After a few days of exploring Sydney, we took the train up to the town of Katoomba in Blue Mountains - about two hours west of Sydney.
The Hotel Carrington in Katoomba in the Blue Mountains
For a bit of luxury, we stayed in a historic hotel there with a spa, the Hotel Carrington. We visited some of the landmarks in the area, including the Three Sisters and the steepest railway in the world. The highlight of dinner that night was some outstanding sticky date pudding! A massage at the spa the next morning helped us recover from the previous day's relaxation and prepare us for the train ride back to Sydney.
Darling Harbour
A few of the other fun things we did included visiting Taronga Zoo, Bondi Beach, walking along the harbour to South Head, shopping on George Street, dining in Darling Harbour, visiting the Power House museum, and enjoying the nightlife along Oxford Street.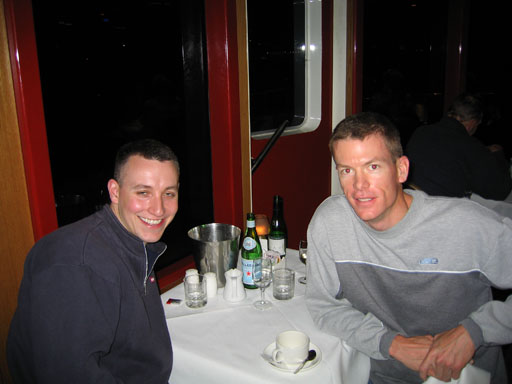 Enjoying a dinner cruise on Sydney Harbour
Another special occasion during the trip was my birthday. We checked into the W Hotel in Sydney in Woolloomooloo. What a nice hotel - right on the water with a great view of the Sydney skyline and beautiful modern furnishings. That evening we went for a dinner cruise on the harbour and had a delightful time.
The following night, Saturday, was our last night in Sydney. Because we had an early flight the next morning, we elected to go clubbing all night and just head directly to the airport!
Last modified: 05/11/2012