Flight Across America

Turks & Caicos and the Bahamas

August/September, 2010
Time-lapse video of the entire trip!
Detailed description of the flights here

The "Big Flying Trip" this year consisted of an island-hopping dive trip with three friends to the Turks & Caicos and Bahamas, and a flying "road trip" with Clarence on the way home.
The dive trip portion involved 4 of us: me, Jerry, Dan, and Kevin. Dan and I departed from Palo Alto California (PAO) on Monday 8/16 and flew to Ft. Collins Colorado to pick up Jerry. From the first day, the weather was challenging. After departing through the fog in the Bay Area, we stopped for fuel in Logan Utah and then battled thunderstorms for much of the flight to Colorado.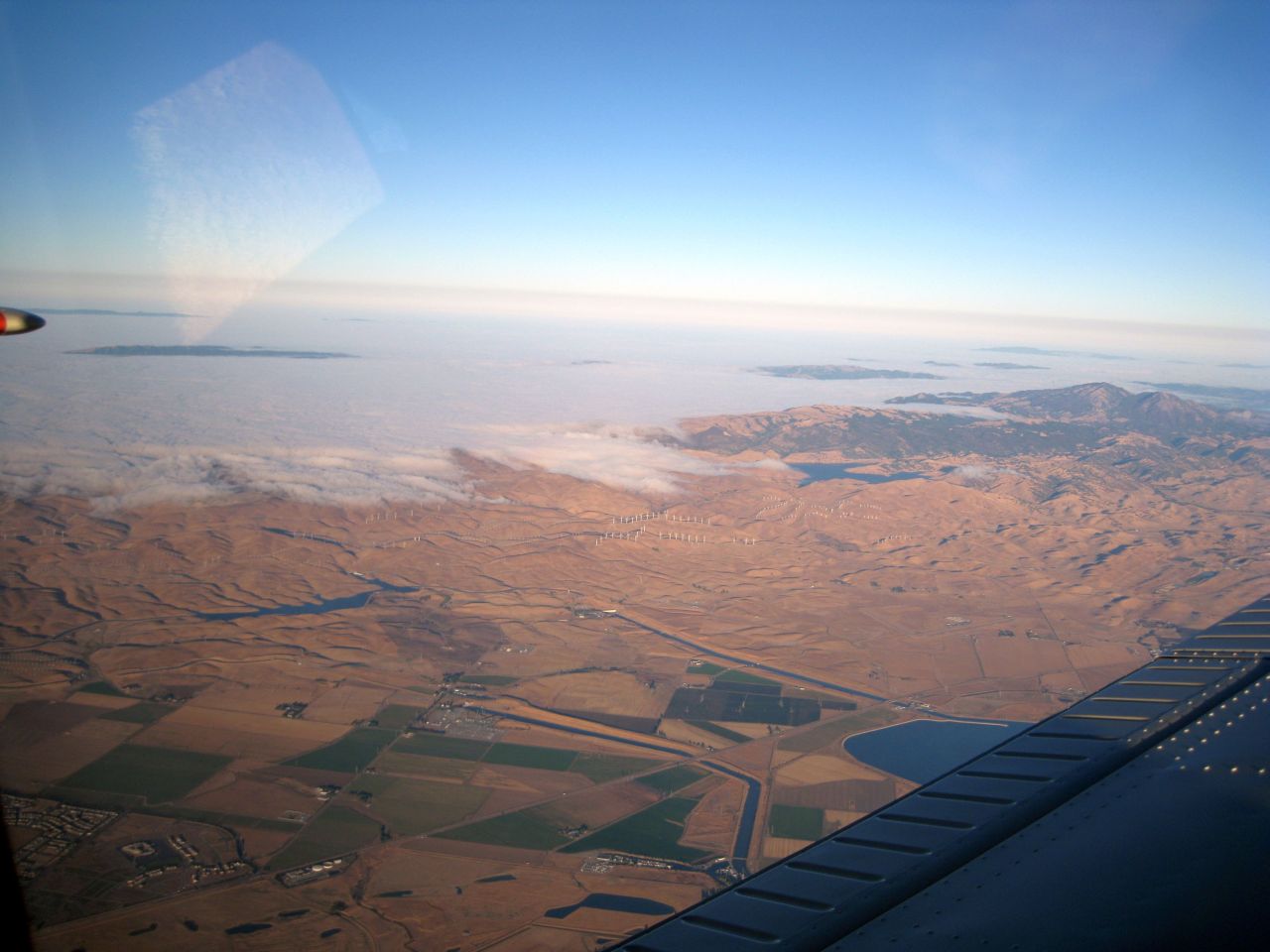 Departing from the foggy Bay Area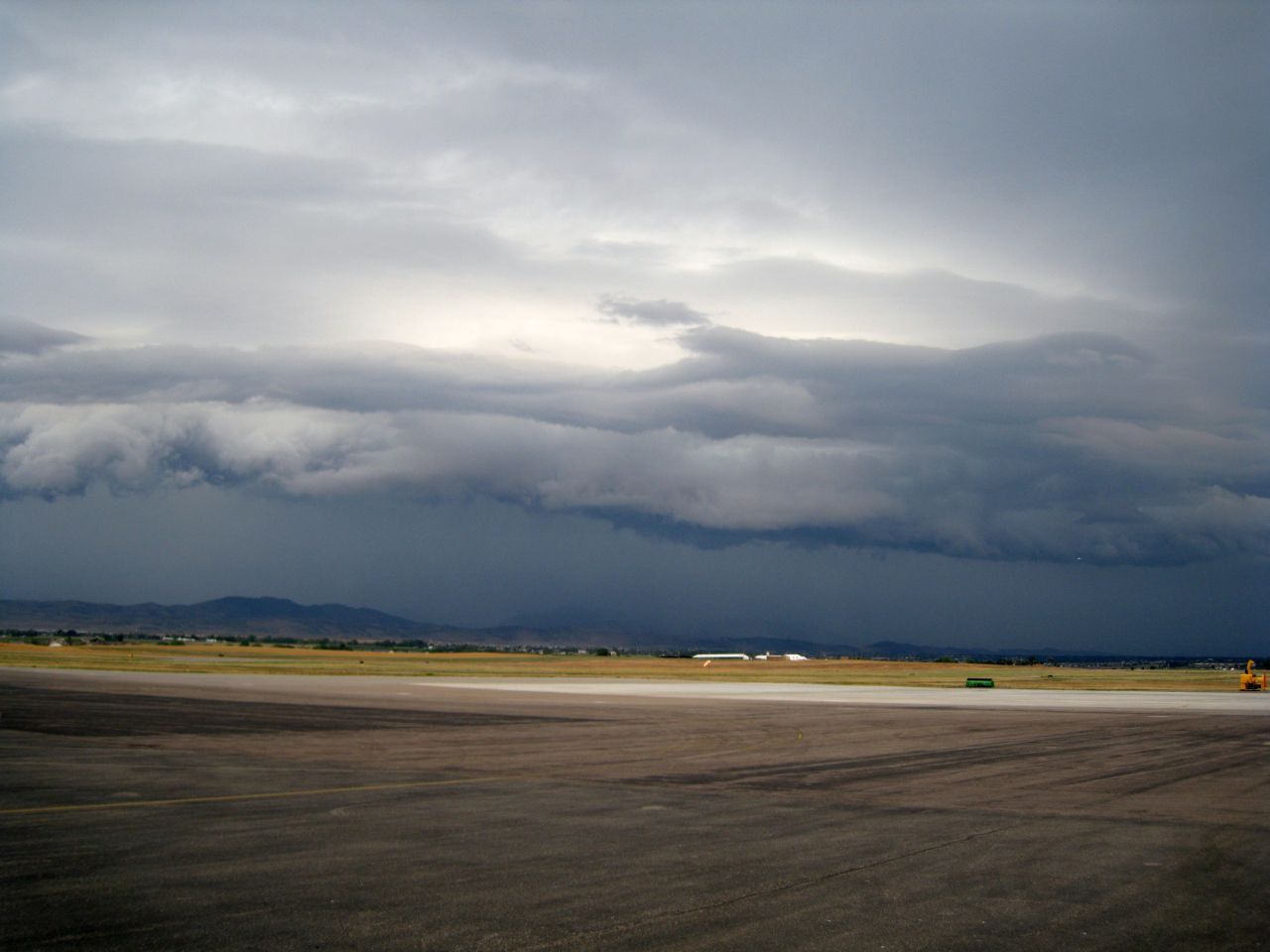 Thunderstorm in Ft. Collins just after we landed
After an overnight in Ft. Collins, we set off the next morning VFR into clear weather with the stretch goal of making it to Ft. Lauderdale. A big band of thunderstorms stretching from Texas to Indiana forced us to throw out our original flight plan and get as close to a gap in the thunderstorms as our fuel would allow - El Reno OK. After refueling and lunch, we set off again, this time IFR. After working our way through the gap in the line of thunderstorms using NEXRAD and help from ATC, we were cleared direct to our next fuel stop in Alabama. After another two hours of flight, however, widespread thunderstorms had developed and forced us to divert to lovely Tupelo Mississippi and call it a day.
Clouds over Georgia
We departed IFR out of Tupelo into a low ceiling and rain with thunderstorms in the vicinity. Fortunately, the weather improved within a half hour and we were mostly in the clear for the remainder of our flight to our fuel & lunch stop of St. Augustine Florida. Unfortunately, as we were doing our pre-takeoff runup at St. Augustine, I noticed our vacuum pump had failed. Fortunately, I carried a spare pump on board, so I found a mechanic to have it swapped in. We then set off IFR to Ft. Lauderdale. The trip could have been conducted VFR but Ft. Lauderdale was inside a presidential TFR that day. Halfway there, ATC tried to reroute us via a point (PHK) which was in the middle of a big thunderstorm cell. After I politely declined ("unable Pahokee due to TS"), they cleared us back on our original route.
Once in Ft. Lauderdale, we went out for well-earned cocktails and food, and then set off for the Bahamas the next morning with our fourth traveler.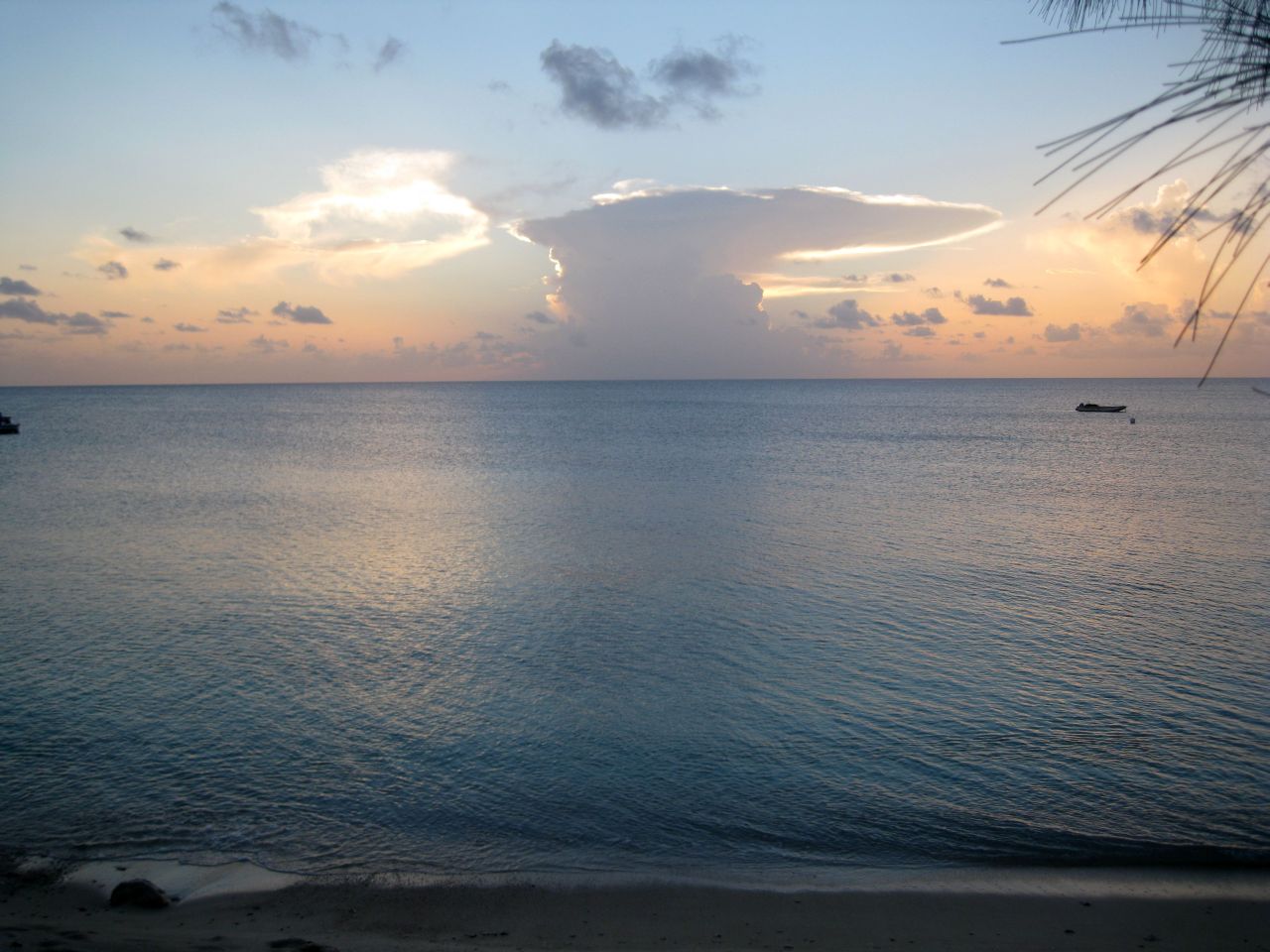 Sunset in Grand Turk
We flew IFR from Ft. Lauderdale to Stella Maris in the Bahamas for a fuel stop. We then proceeded IFR to Grand Turk in the Turks & Caicos. We passed over many islands that day and the colors were breathtaking: from the crystalline white sand beaches and the bright turquoise shallows to the deep indigo blue of the offshore waters - the sights were unforgettable.
We stayed at the Osprey Beach Hotel in Grand Turk and dove with Blue Water Divers. The accommodations were just right, the dive operation was great, and the diving was spectacular.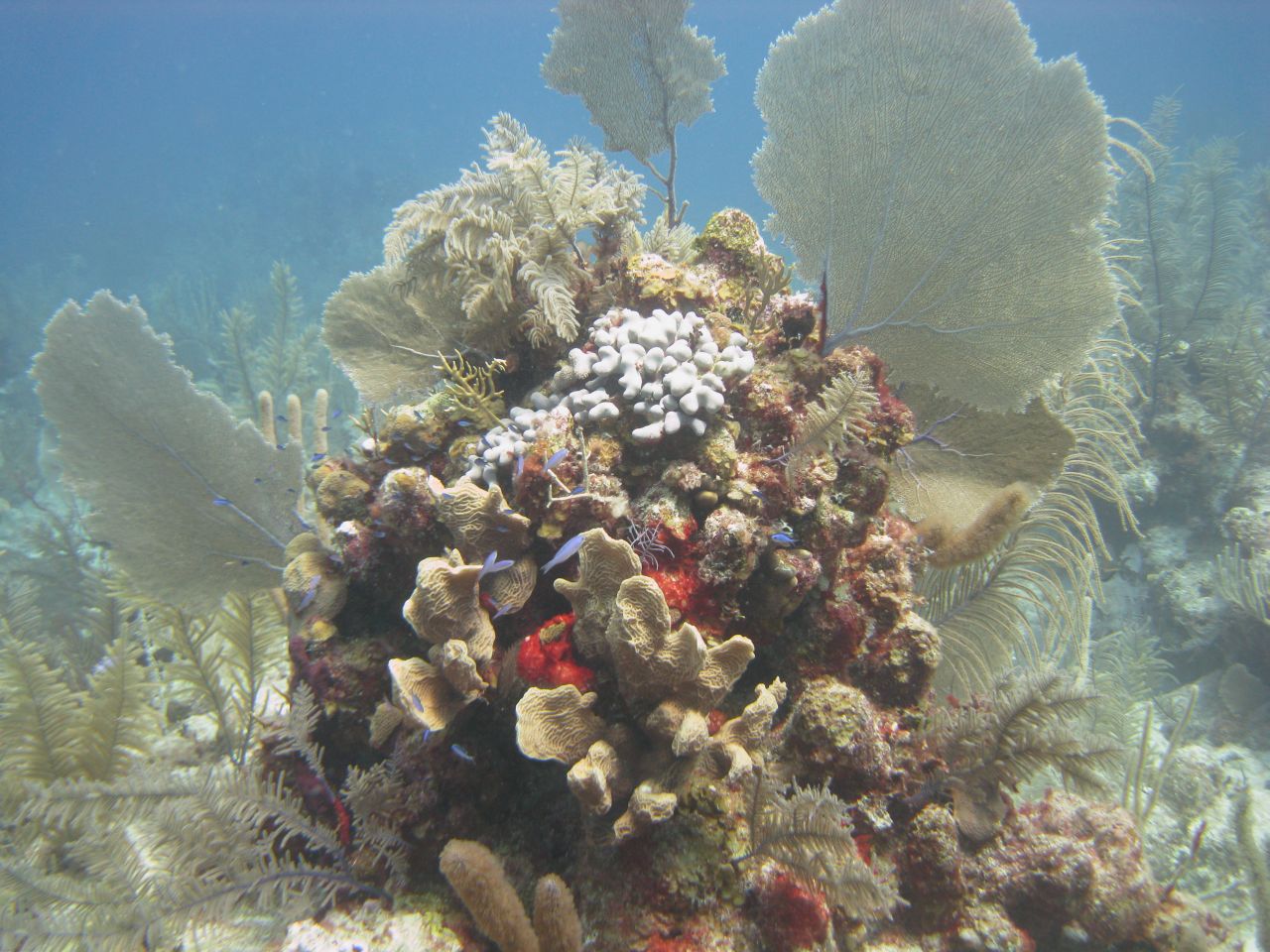 Coral Head near Grand Turk
The highlight of our stay on Grand Turk was a day trip to Salt Cay. We stopped for a dive on the way over, and made another dive off Salt Cay. We then proceeded to Porter's Island Thyme bar on Salt Cay for a few drinks and lunch. After several of us sampled a variety of Porter's island moonshines and other creations, we toured one of the colonial mansions formerly occupied by a family in the salt mining business.
On August 22nd, we departed Grand Turk and flew to Providenciales to refuel and spend an afternoon and night in "the big city". The following morning we flew to Stella Maris in the Bahamas to refuel and clear customs, then flew to our next destination of Staniel Cay in the Exuma Islands.
Swimming Pigs near Staniel Cay
We rented a cabin at the Staniel Cay Yacht Club, which included a small motor boat that we used for dive trips and exploring the area. We did a nice mix of diving and snorkeling, and one day rented a larger boat and made a trip to the Exumas Marine Park. The yacht club was great: friendly staff, fine accommodations, good food and drinks, and a good location. We'll definitely be back.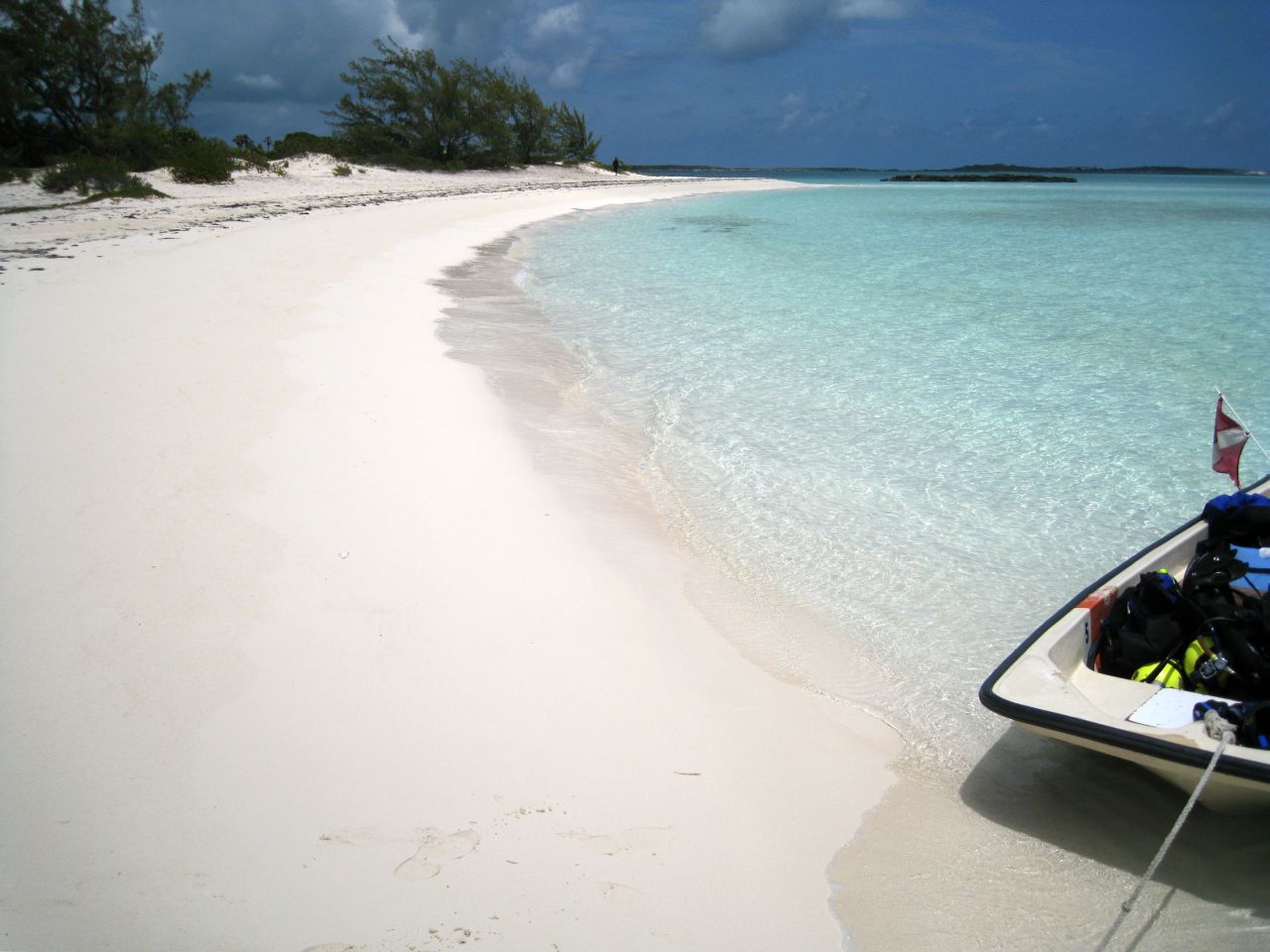 Lunch on Sandy Cay between dives
The last stops in the Bahamas were Nassau for fuel and then to Bimini. We had planned to stay a few days in Bimini and do some dives & swim with dolphins, but since the dolphin trips were booked up and the island was a dump, we elected to leave first thing in the morning and spend the next day in Ft. Lauderdale instead.
Back in Ft. Lauderdale!
Our route and overnight stops in the islands
Once back in Ft. Lauderdale, Dan, Kevin and Jerry flew home via airliners and Clarence flew out and joined me. After spending a few days in Palm Beach visiting relatives, we flew to Savannah Georgia for a few days of sightseeing.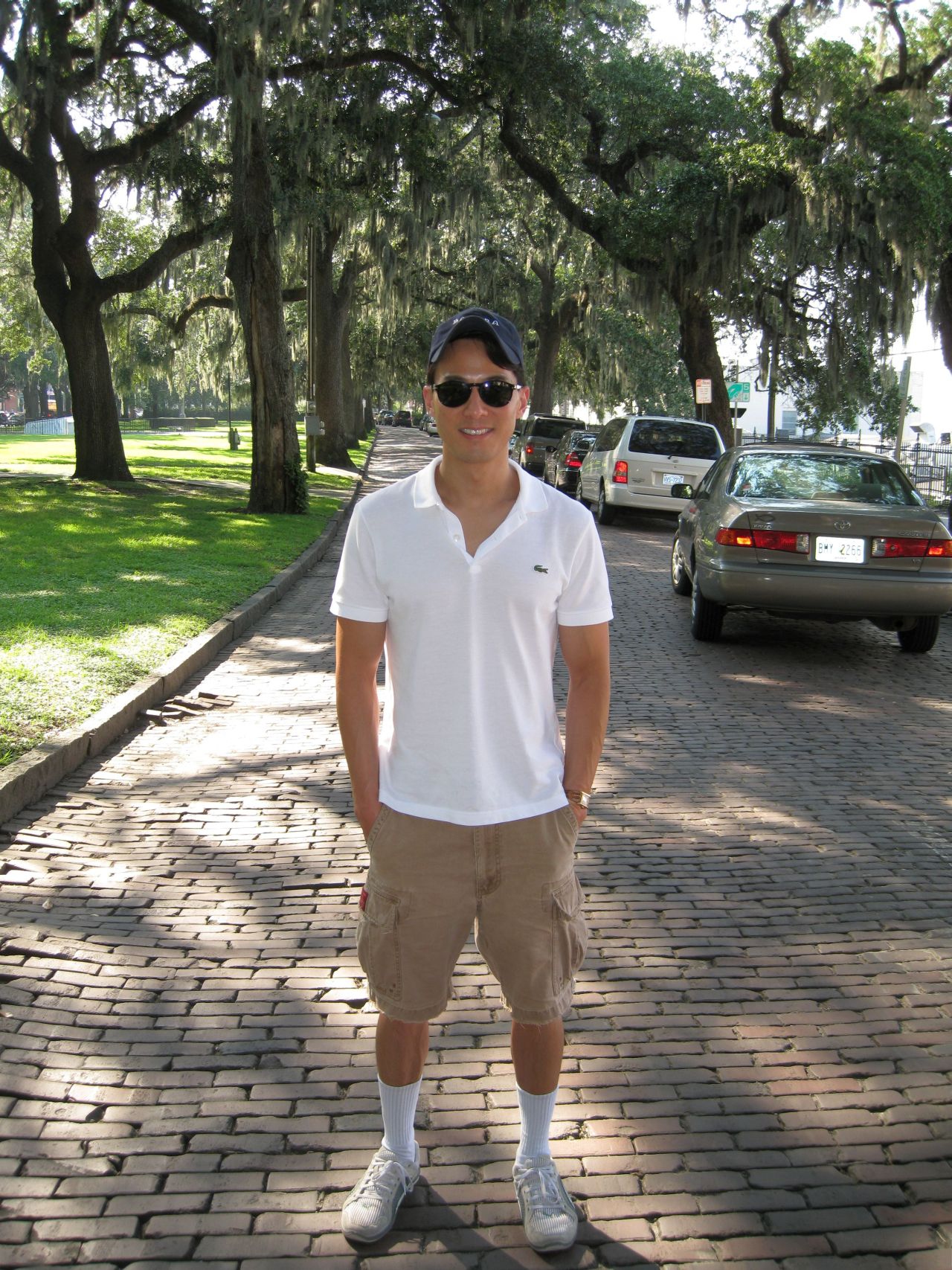 Clarence in Savannah
Savannah is a beautiful city with a lot of colonial architecture and antebellum homes. It's a very walkable city and has some great restaurants. One of our favorites was the Pink House restaurant. We dined in the tavern in the basement and had a fantastic meal in a classy atmosphere. After a few days in Savannah, we headed to Natchez Mississippi to see more antebellum mansions.
Jim flying somewhere over Texas
After Natchez, we spent the night in Santa Fe NM.
The Painted Desert in Arizona
Our route of flight after Santa Fe took us westward across New Mexico and Arizona and into Las Vegas Nevada for fuel. The scenery during this flight was gorgeous, but the headwinds were ferocious, resulting in nonstop turbulence. In fact, the winds and turbulence were so bad that I aborted a landing at Boulder City and diverted to Henderson NV instead.
Time-lapse video of the entire trip!
Detailed description of the flights here
Last modified: 05/11/2012