Kauai

March, 2009

Clarence and I and several other friends rented a vacation house in north Kauai, near Princeville. We spent the week exploring the island, enjoying the beach, and hanging out at the house.
Clarence and Jim at Waimea Canyon
Kauai has a great variety of things to do and see, as long as it involves being outside! Waimea Canyon was one of our first day trips, requiring a drive to the south end of the island and then inland. On the way, we tried out a traditional plate lunch at a local market.
Another adventure was a day hike along the Kalalau Trail to the Hanakapiai Falls. We were clearly not prepared for this 8-mile round trip hike and didn't bring enough food or water. The scenery was incredible though, and the waterfalls were amazing.
Jim & Clarence at the Kilauea Lighthouse
The weather was decent. The temperatures were in the low to mid 70's and it rained every day.
The view from our balcony
The house we stayed in was really nice and overlooked the ocean. Just about every day, we could see whales breaching or spouting.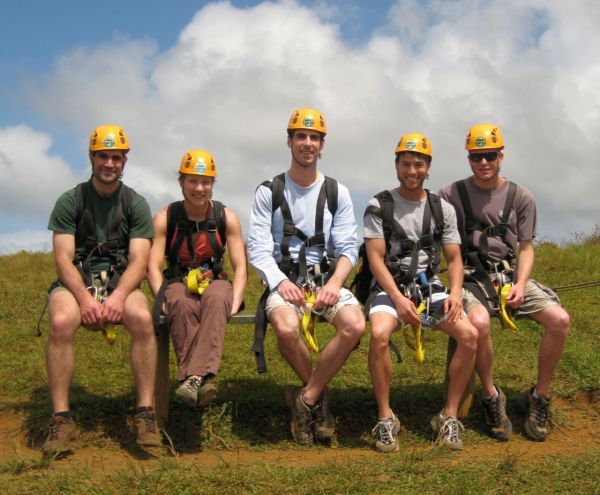 Logan, Rhonda, Kurt, Clarence, and Jim on a zipline tour
Some of the other fun things we did included a zipline tour, kayaking the Wailua River and hiking to the Secret Waterfalls, as well as various other day hikes.
One of the surprise treats was an ice cream store on the Kilauea lighthouse road that sells Tropical Dreams ice cream. This fantastic ice cream is made in the islands almost entirely of local ingredients.
The Queen's Pool
Last modified: 05/11/2012