Havasu Falls - October, 2006
My friend Paul and I spent a long weekend camping in the Grand Canyon recently. The first night was spent at the Diamond Creek campground near Peach Springs, AZ and the second night was spent near Havasu Falls:
There are actually four sets of waterfalls between Havasu Springs and the Colorado River, including Navajo Falls, Havasu Falls, Mooney Falls, and Beaver Falls. Amazingly, the river you see above emerges from the ground near Supai Village at a rate of around 29,000 gallons per minute from the Red Rock aquifer.
Here are some details of the trip, starting with the flight plan:
Flight route - click for a larger image
The plan was to fly out to Kingman Arizona on Saturday, October 7. ATC granted our request to cut through the huge Edwards AFB restricted area, which shortened the flight a bit. Unfortunately we didn't find out that Kingman Airport was closed due to an airshow until the morning of departure, and we weren't able to talk our way in, so we diverted to Bullhead City instead.
We rented a car and drove to the Diamond Creek campground in Peach Springs Canyon and camped there overnight. Apparently, this is the only place in the Grand Canyon where you can drive to the bottom of the canyon and right up to the Colorado River. This part of the trip was on Hualapai Indian lands.
The next day, we drove to the Havasupai trailhead and took a helicopter to the village. The 8 minute helicopter ride was just amazing. The other time I rode a helicopter involved flying straight up to 10,500 feet, at which point I jumped out. In this case, the helipad was at the top of an 800-foot cliff on the Hualapai Canyon:
We lifted off and flew right over the edge of the cliff and skimmed the base of the canyon all the way to the village. I was fortunate enough to get the front seat, which had panoramic visibility.
Once there, we hiked the two miles to the campground, set up camp and then went to explore the various falls.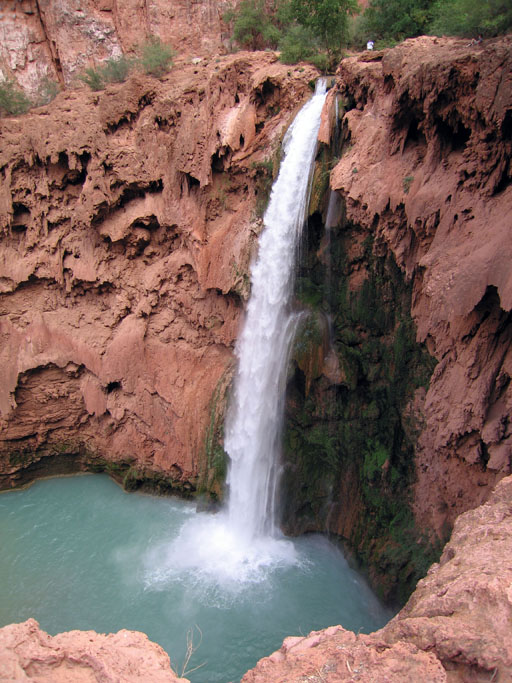 The picture above is a shot of Mooney Falls. We made our way to the base of the falls through a very treacherous set of tunnels, stairs, and steel spike-and-chain handholds. We hiked downstream for another 30 minutes or so before turning around.
The following day, we choppered out, drove back to Bullhead City, and flew home with a dinner stop in Paso Robles..
Google Earth placemarks for a few points of interest can be found here, or individually below:
Last modified: 05/11/2012