Sailing in Italy

August, 2007

I had the great fortune recently to spend three weeks sailing around Sicily with an old friend.
Our conveyance for the trip was the Kenora, a 107' sloop built by Wally Yachts. She is a beautiful boat, highly automated and with a crew of four.
We visited two ports on Sicily: San Vito lo Capo and Milazzo. The rest of the time we spent island hopping. The islands we visited include Favignana, Alicudi, Filicudi, Lipari, Vulcano, Salina, Panarea, and Stromboli.
Map of Sicily: The red trail is our path.
We would generally spend the days sailing and sometimes anchor for a swim. At night, we would anchor or dock in a port and sleep on the boat. We would usually dine on the boat, but occasionally have dinner on land.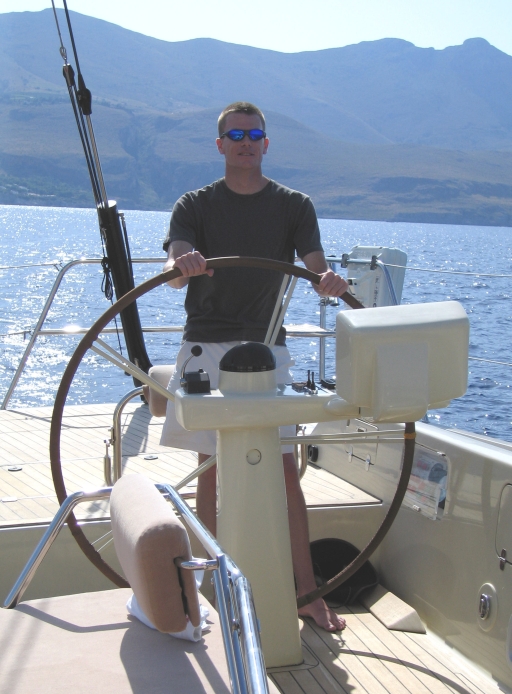 One of the highlights of the trip was the group of active volcanoes we saw: Stromboli, Vulcano, and Etna. Stromboli would erupt explosively every 20 or 30 minutes and generate a big ash cloud. I hiked up about 2/3rds to the top of Stromboli and was rewarded with some great views. Vulcano and Etna just emitted steam - no eruptions while we were there.
The weather was generally ideal, with pleasantly warm temperatures and winds between 8 and 15 knots. We ran into only one cloudy/rainy day, a few really hot days, and two days with high winds. We had intended to sail from Lipari to Catania but as we approached the Straits of Messina, the winds peaked at 51 knots and we had to turn back. We visited Milazzo instead.
Last modified: 05/11/2012